Parish Magazine
---
The church's magazine, "Crosstalk", is published monthly and also has a wide online readership. It contains church news, details of what's on and when, service times, news of weddings, baptisms, and funerals, articles of general interest, recipes, humour and fun pages for children. It also carries advertising.
If you would like to receive the magazine regularly, as a paper copy, contact Jeff Arnold (Distribution Manager) on 01926 632330.
If you would like to submit an article or letter, or are interested in placing an advertisement, email the Editor, Jeff Burgess. For current advertising rates, click here.
You can view back issues here and save them if you wish. They are bookmarked PDFs, so if you click the bookmark icon in Adobe, you will find it very easy to navigate through the magazine and find what you want to read, as shown below.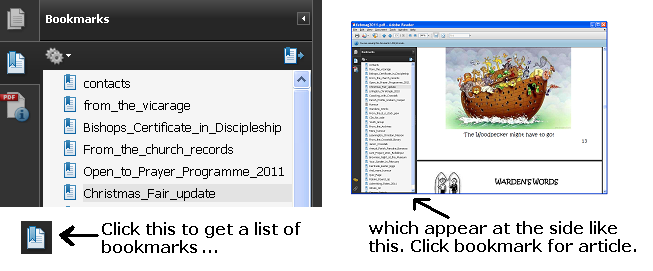 Other Available Issues: please choose
Press to retry if download does not begin